Comfy, Cool and Collected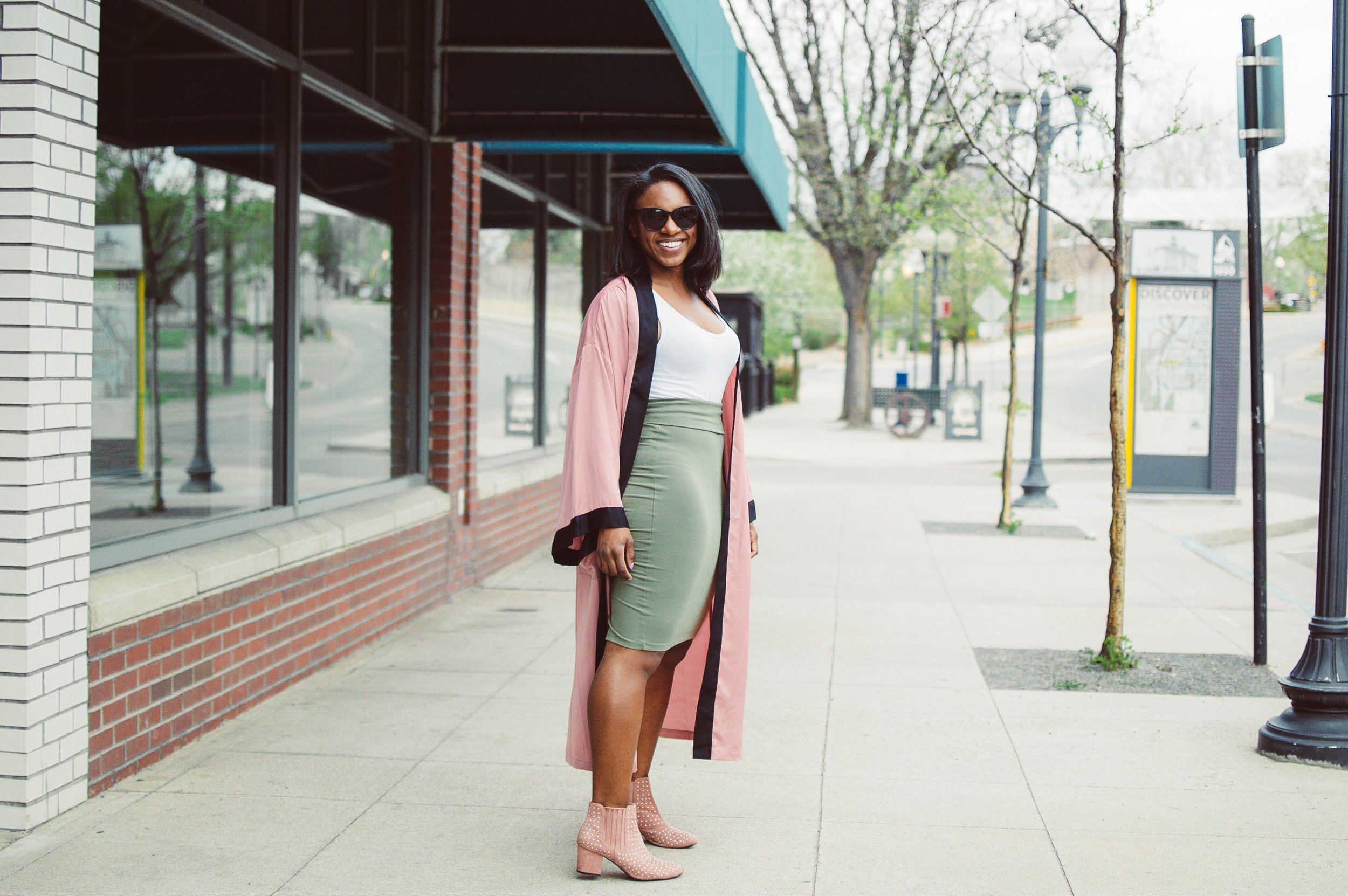 Have you heard of the minor trend of wearing your PJs as outerwear!? Your pajamas. Outside. And not be labeled as a "people of Walmart". This is NOT a drill people! More and more as I discover and settle into my personal style, it has become increasingly more apparent that I value comfort above most everything else. To some extent, I hear the "beauty is pain" argument, but I'm telling you, if I'm in pain because my dress is uncomfortable when I sit, the fabric is itchy or clammy/clingy, nor the expression on my face or the words that come out of my mouth with be beautiful! Ha! Why be uncomfortable when there are so many other items that you will forget that you are wearing!? So any trend that plays up the most comfortable pieces in our wardrobes speaks directly to my sweats-loving heart!
I found this silky cool pink and black robe on the sale rack at Target and immediately put it right in the cart. Labeled as a "robe coat" on the website, it does not come with a belt, to be left open or belted with the accessory of choice. The PJs trend is a delicate one because you want to avoid looking like you ACTUALLY rolled out of bed, but instead look polished and clean. Keeping in mind that comfort is the priority, I paired the robe here with an easy breezy racer back bodysuit and a classic stretchy pencil skirt! Pencil skirts made of a less formal fabric is comfy and flattering (high waist FTW!) and creates curves or emphasizes whatever the sweet Lord gave you! I love wearing this robe coat as a duster style with jeans, or snuggled on my couch over my sweat shorts with a book!
More on the personal style discovery thought train...color has always been an interesting thing to me and truthfully, an area I've been afraid of. I usually subscribe to the traditional rules of not too much, don't mix too many. Always a neutral, paired with something fun. Contrast is key, no two colors on the same side of the wheel, etc. I'm not sure if it is because I don't want my clothing to draw attention to itself (and subsequently myself), or that its easier to stick to neutrals and just to pair dark bottoms and a light top, but I'm branching out more and more. Not necessarily a pink and red combo, but olive and pink is something I'm loving lately! A fresh take on the girly shade and perfect for the warmer seasons.
What are your favorite out of the box color combinations?! Let me know in the comments!
Dress Loudly. Love Loudly. Live Loudly.
Jenn