No Makeup Monday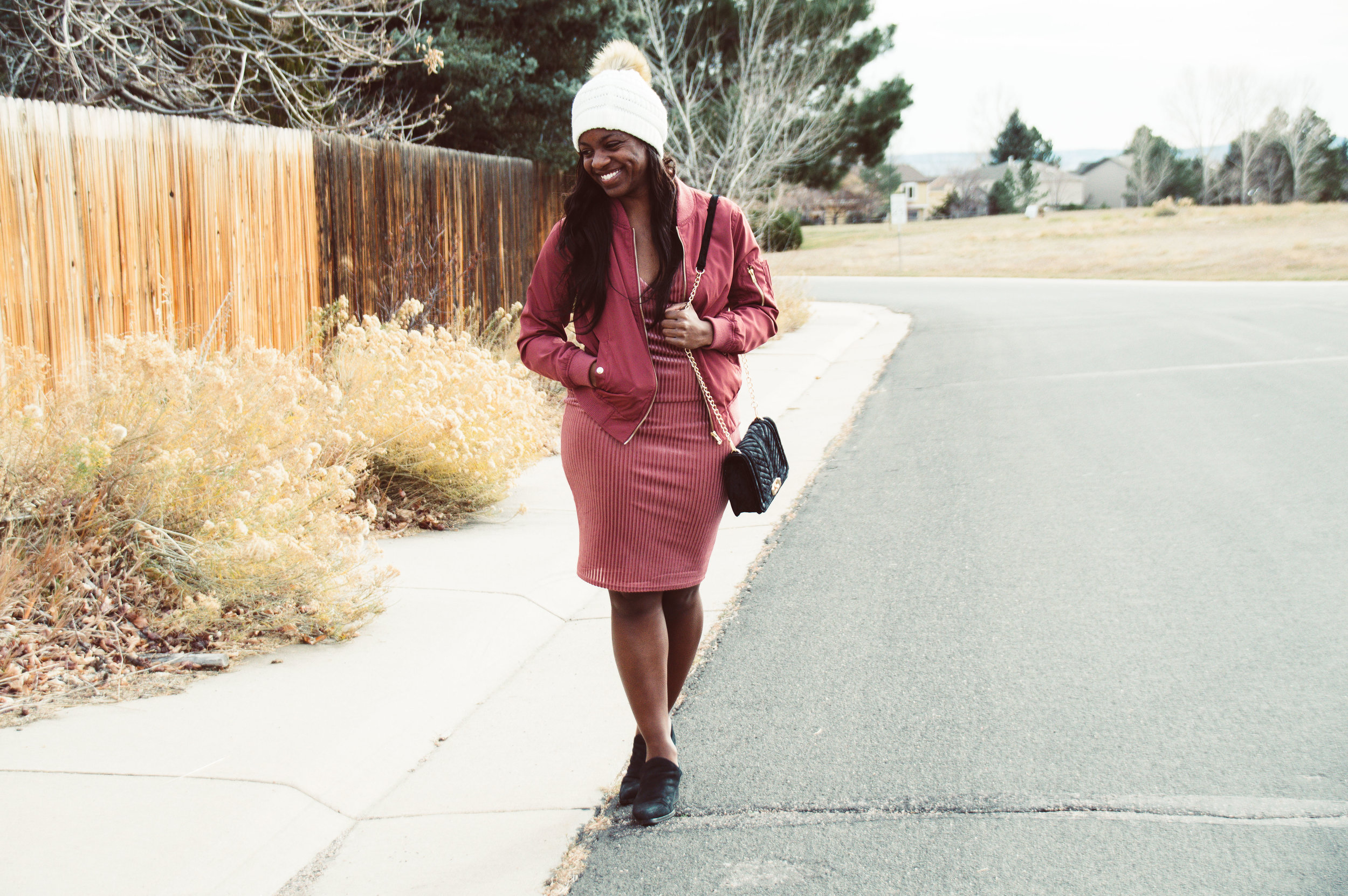 Dress | Bag | Bomber Jacket | Beanie (similar) | Booties
It's another No Makeup Monday (#NMN, if you're cool)! On Mondays, we start our work week celebrating our true selves by lifting the makeup veil and being unapologetically who we are, scars, acne, fine lines and all!
This week is all about texture and colors to kick off the beginning of this holiday week! As with the rest of the world, my current obsession is velvet! So on trend for this season, but knowing it won't be around forever, I did not want to spend my life savings are a velvet coat, overalls, etc. So I picked up this light and fun, velvet dress from Forever 21 for $14 dollars (WHAT!?!) a few weeks ago and could not wait to wear! The color is unusual, but perfectly fitting for this cabled, velvet fabric and growing in popularity! The midi length makes the spaghetti straps more modest and the lining is nice and relatively warm!
My other feature piece in today's look also falls into my velvet obsession...the Crystal bag from Urban Expression! I received the black and her midnight sister as birthday presents, and I've been wearing it every day for a week! A fun (and MUCH less expensive) take on the Chanel velvet Boy Bags, Urban Expressions knocks it out of the park in quality and design! This is my first experience with the brand, and as they are a conscious fashion house specializing in luxury vegan and animal free products, it will certainly be spending my person coin in the future!
I paired these velvet lovelies with my lightweight bomber that you have seen before, also from Forever 21, for a monochromatic vibe! To add a bit of contrast, I've added my favorite pom beanie from Wish Boutique, and my black Steve Madden dress booties.
I hope you have a wonderful week and a very happy Thanksgiving full of family and food, Loud Livers!
Dress Loudly, Love Loudly, Live Loudly.