Patchwork Faux Fur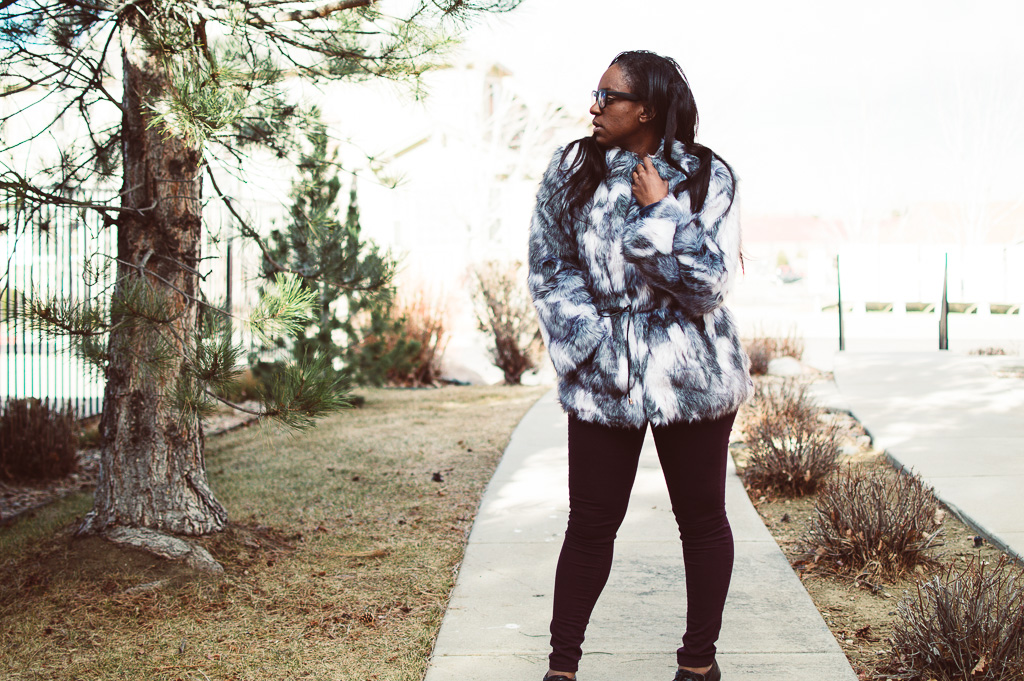 To shop:
Faux Fur Coat | High Waisted Jeans | Glasses
I know, I know, I know. I'm behind this trend. Everyone else has been on the faux fur wagon since the temps fell below 65. Maybe because of the prices of some of the coats, or because I never thought I'd have a place to wear it, I didn't buy into the hype. Until now!
I found this piece on Boohoo just before Black Friday. I was surfing, trying to figure out who had the best deals, and I spotted this one, deep in the jackets page. I just couldn't help myself! It is unlike any of the other faux fur coats I was seeing with the patchwork fur, and maybe it's because of the faux leather rope belt, but I just had to have it!
I waited anxiously for the package to arrive (which took 12 days AFTER paying $7 in shipping, ughhhh) and I could not WAIT to try it on! It is the softest, most cozy jacket I've ever owned! The faux fur is thick and deep, with hints of green and blue among the cream, black and grey. It's heavy enough to serve a true purpose as a coat (these pics were taken below freezing and I was toasty), but light enough to be worn walking in and out of outlet mall stores without taking it off immediately upon entry.
This coat most certainly makes a statement! Wearing this while walking indoors is eye catching, so be prepared for side eyes and stranger judgement (if you're concerned about that sort of thing). But truthfully, if you look good, you feel good. And this coat will make you feel GOOD! I will never encourage trying to find your happiness in a garment, but when you catch your reflection in a mirror wearing this fluffy thing, you'll strut like Tyra in ANTM! Guaranteed.
Oh...and did I mention I only paid $56! She was on sale, down from $116. Makes me want to strut the catwalk even harder!
Dress Loudly. Love Loudly. Live Loudly.