The Summer Staple: The Perfect Denim Shorts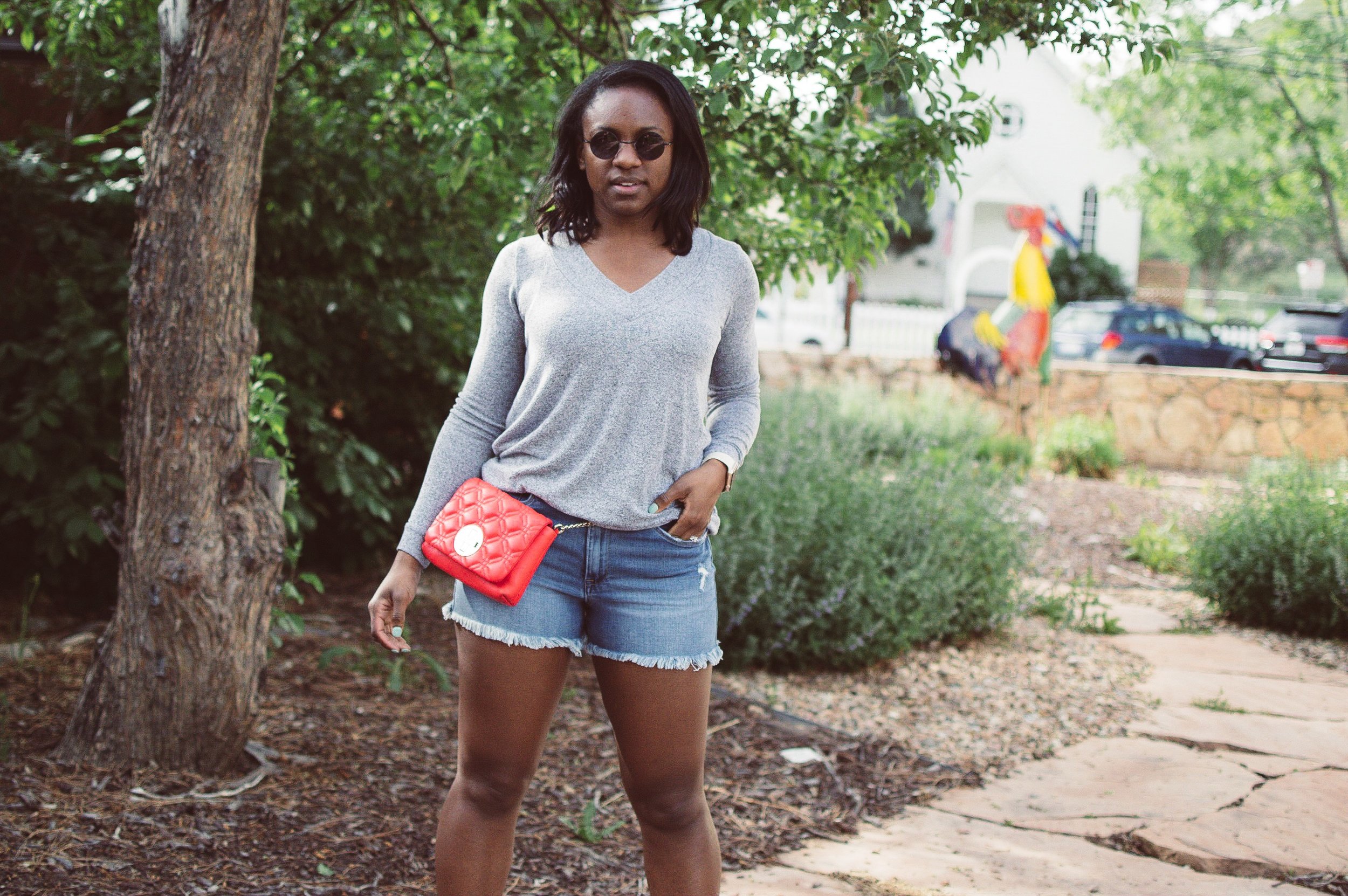 Finding the Perfect Denim Shorts
Shop This Look! Shorts | Other Shorts options here, here and here | Sweater (similar) | Sneakers | Sunnies
It is almost incomparable. That feeling you get when you find the one article of clothing that you feel you needed your entire life. It came to me while I was browsing lazily through the racks of Nordstrom Rack and stumbled upon the denim shorts carousel. I cringed. Knowing full well that shopping for shorts is probably the most frustrating experience in the retail world, I approached with caution. Spring is here and summer is coming, but my warm weather wardrobe is severely lacking, specifically bottoms! I have my fair share of jeans and leggings, but I have had my one lonely pair of Banana Republic shorts for at least the last two years. It didn't really seem like a hardship, as I typically spend my summers in dresses and skirts, but the versatility (and thigh rubbing prevention) that can be offered by the perfect pair of shorts sent me on a mission to find a few perfect pairs! I'm about as pair shaped as it gets, so the struggle to find shorts that really get the job done I thought would be a life long challenge. I think I have mastered this simple recipe to find the perfect pair of shorts. I'm sharing my tips for the thick girls looking for the perfect pair of shorts.
Mid or High Rise: Gone are the days when Britney was Doing It Again and so are the days of the ultra low-rise short shorts. Sitting down causes instant crack exposure and that is never a good look.
2.5" inseam or longer: I really don't know how Daisy Duke did it. Because there is nothing more uncomfortable than your lady bits trying to eat your shorts, or your lady cheeks making a surprise appearance at the amusement park. I've had an endowed rear end my whole life and at some point, I just want to keep her all to myself.
No Gap Waist: The biggest and most important one for me. I am still baffled that this is the number one issue with shorts and pants, even those that are high waisted. Look for a lot of stretch and an hourglass shape. Because being forced to wear a belt with shorts is no longer acceptable.
Quality Matters: This is subjective, but I have learned that shopping at fast fashion stores just does not give me the three criteria needed above. Inexpensive denim usually does not have the stretch, structure or can hold up wrangling thicker thighs and behinds. No need to spend $$$ on them, though. The "Shop This Look" links above give you inexpensive and excellent options that all fall into these criteria.
Anyone else have any issues shopping for shorts? If so, what are your criteria to find your perfect pair?
Wear Loudly. Love Loudly. Live Loudly.
Jenn